Ferdighets- og prestasjonsutvikling idrett og skole – Institutt for sosiologi og statsvitenskap
Ferdighets- og prestasjonsutvikling i idrett og skole (SPDSS)
Forskningsgruppe
Ferdighets- og prestasjonsutvikling i idrett og skole (SPDSS)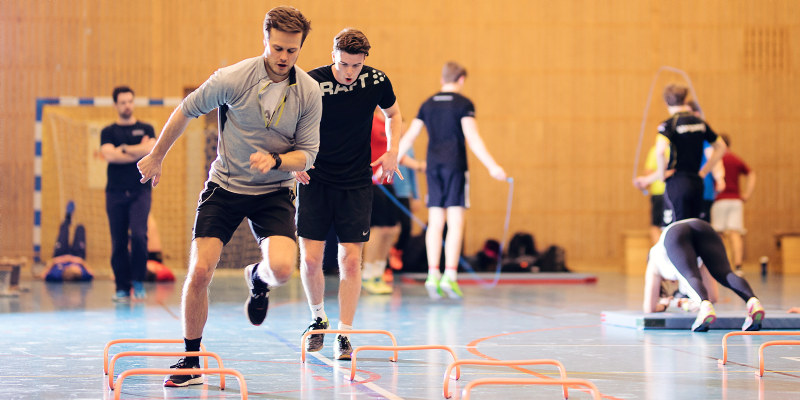 ---
Om forskningsgruppen
Både idretts- og skolekonteksten er preget av forholdet mellom ferdighetsutvikling og prestasjoner, der henholdsvis utøvere og elever skal lære og utvikle ferdigheter knyttet til idrett og fysisk aktivitet. Treneren og læreren er viktige bidragsytere for å sikre denne utviklingen, men også miljøene som utøvere/elever og trenerne/lærere er en del av spiller en avgjørende rolle. I denne sammenhengen er det og verdt å nevne at for noen er idrett og skole tett sammenvevd gjennom eks. toppidrettsgymnas og toppidrettslinjer i videregående skole.
Utøvere/elever er selv de viktigste bidragsyterne for egen utvikling og prestasjoner. Viktige spørsmål er derfor hva som kjennetegner deres utvikling og hvordan foreldre, venner, trenere og lærere bidrar til denne utviklingen. For å kunne utvikle ferdigheter er utøvere/elever avhengig av å vite hvilke krav som stilles til dem, hvilke ferdigheter det er ønskelig at de utvikler, og i hvilken fase av utviklingen de befinner seg i. I hvilken grad disse kravene formidles tydelig til utøvere/elever (er kjent) kan diskuteres.
Vår forskningsgruppe jobber bredt med denne tematikken innenfor både idrett- og skole konteksten. Noen av temaene som vår forskning omhandler individuelle kjennetegn ved utøverne og elevene som:
motivasjon
stress
perfeksjonisme
og kjennetegn ved miljøene de er en del av som:
kommunikasjon
betydningen av prestasjoner
motivasjonsklima
trenerstil
---
Tema: Ferdighets- og prestasjonsutvikling
Prosjekter
Ph.d. prosjekter
Tidligere prosjekter
Utvalgte publikasjoner
For flere publikasjoner, gå inn på den enkelte forskers nettsider.
Konferansebidrag
Aspvik, N.P, Mehus, I. & Sæther, S.A. (2023) ATHLETES' WILLINGNESS TO COMMUNICATE PAIN TO THEIR COACH. A CROSS SECTIONAL STUDY OF NORWEGIAN HANDBALL PLAYERS, ECSS Paris 3-7 July 2023 (forthcoming)
Sæther, S.A, Mehus, I. & Aspvik, N.P. (2023) STRESS AND PERFECTIONISM AMONG MALE AND FEMALE AGE-SPECIFIC NATIONAL TEAM PLAYERS IN FOOTBALL, HANDBALL, AND ICE-HOCKEY, ECSS Paris 3-7 July 2023 (forthcoming)
Mehus, I., Aspvik, N.P. & Sæther, S.A. (2023) TALENT DEVELOPMENT ENVIRONMENTS IN NORWEGIAN AGE-SPECIFIC NATIONAL TEAMS IN HANDBALL AND ICE HOCKEY, ECSS Paris 3-7 July 2023 (forthcoming)
Røsten, S., Sæther, S.A., Aspvik, N.P. & Bjørndal, C.H. (2022) Embedded, embodied, enculturated, and enabling processes: The identification and evaluation of sporting talent by ice hockey coaches in Norwegian youth international teams. 4th International Motor Skills Acquisition Conference, 16-18 November, Finland.
Bergström M., Sæther S.A., Solli G.S. & McGawley K. (2022) Tick-tock goes the biological clock: Mother-athlete dilemmas facing elite Scandinavian cross-country skiers. Nordic Winter Sport Conference, Østersund, 3-4 oct. 22
Sigvartsen, K.K., Sæther, S.A., Haugen, T., Erikstad, M.K., Peters, D.M. & Høigaard, R (2022) Elite team sport athletes´perceptions and experiences of destructive coach leadership behaviour. ECSS, Sevilla, july 2022.
Feddersen, N.B., Francesca Champ, F., Sæther, S.A & Littlewood, M. (2022) Challenges and Solutions to Humanistic Psychology Delivery with Male U9-U16 Football Players in Professional English Academies. FEPSAC, Padova July 2022.
Feddersen, N.B., Francesca Champ, F., Sæther, S.A & Littlewood, M. (2022) Confidentiality and Surveillance in Psychology Provisions in Men's Football Academies in England. FEPSAC, Padova July 2022.

Samarbeidspartnere
Forskningsgruppen har samarbeid med flere forskningsgrupper fra andre universitet og samarbeider også med flere særidrettsforbund og klubber om prosjekter innenfor idretten. Les mer om våre samarbeidsparter her: