AI + Design thinking - kurs
AI + Design thinking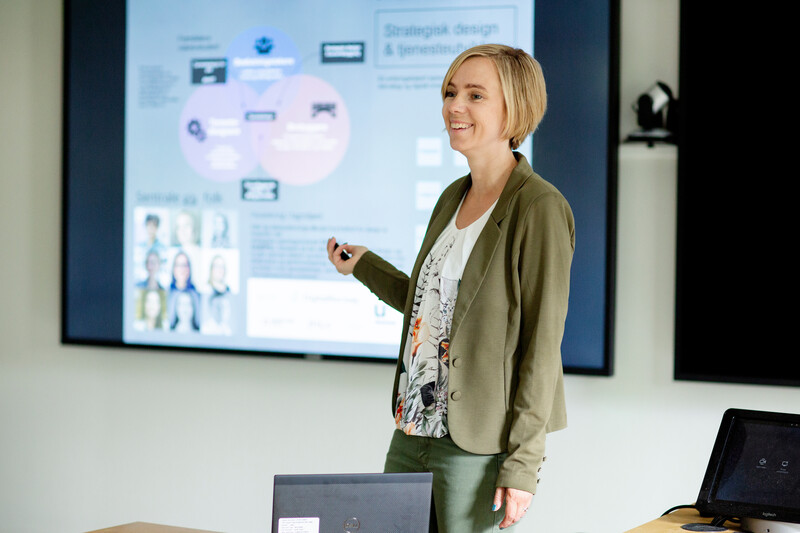 Start: 24.08.2023
Søknadsfrist: 10.07.2023
Undervisningsform: Nettstudium med digitale samlinger

Pris: 24000 Kr
Studiepoeng: 7,5
Emnekode: PD6010
Det er dessverre for sent å søke på dette kurset. Du kan finne alternative kurs på våre nettsider.
AI + Design Thinking is a unique interdisciplinary program that aims to create business value by combining creative craftsmanship of design thinking with the technological power of artificial intelligence. Participants will learn how to facilitate and run interdisciplinary innovation processes.
The course can be included in NTNU's master's program in Technology Management and Digital Transformation - in specialization for Strategic Design and Service Development , or as part of another study program at NTNU where appropriate.
Målgruppe
The primary target group is managers, project managers and advisers in the private and public sector. The need will apply to all sectors and disciplines that work with digitization processes in connection with service development and service innovation. The secondary target group is project staff, developers, designers and other participants in service development projects.
Innhold
More than ever before, companies and organizations are discovering and exploring the benefits of using artificial intelligence (AI). However, many are unable to go from experimenting with AI solutions to achieving real business value.
The course is specially tailored for design innovation for AI projects within companies and organizations.
AI + Design thinking will give participants the opportunity to become 'catalysts for innovation' in the companies they work for.
Participants are expected to bring a case related to their own workplace, organization or company, and use a design thinking + AI approach to this case.
Becoming a catalyst for innovation requires mastering three basic skills:
1) To be able to discover opportunities by looking at challenges and situations with a customer-centric mindset and by framing the "right" problem that needs to be solved.
2) Be able to think differently and interdisciplinary to search for new problems and solutions where AI works as a possible technology.
3) To embrace an experimental attitude to iteratively discover and test early on what is valuable, feasible and viable.
AI + Design Thinking is based on an AI ecosystem that in addition to technology includes users, customers, business and organization. The interplay between these elements provides a framework for innovation and value creation in a business perspective.
The content of the course has been developed in collaboration with leading national and international experts in the new field for full integration of AI and design thinking.
Emnebeskrivelse
Opptakskrav
Admission requirements
The admission requirement is twofold:
1. Completed degree of 180 credits.
2. Minimum two years' relevant work experience
Working conditions must be documented with a certificate from the employer describing the type of job / work tasks, position percentage and duration. If you do not have a bachelor's degree or equivalent completed education of at least 180 credits, you can request a prior learning assessment of your admission basis.
You must document education and work experience within the application deadline to have your application processed.
Undervisning, eksamen og pensum
Tid og sted for undervisning
All teaching will be carried out digitally in the Autumn of 2023
There will be both lecturers from academia and industry collaborating in delivering this course. The course will be taught in English.
The course will require participants to bring a problem case from the industry-office that they are currently involved with or are interested in working. At the start of the module, these cases will be shared with all the participants and based on interest, groups of 2 or 3 participants will be formed. This case will be the main problem that all course learnings will be applied and later evaluated upon during the course. Work on project assignment: 15 hours before start-up.
First module: 24 August & 25 August - 9 am to 4 pm
Online teaching between sessions 1 and 2 including colloquia and supervision: 7.5 hours
Work on project: 40 hours
Mid term presentations: 22 September

Second module : 28 September & 29 September - 9 am to 4 pm

Work with project report before submission: 100 hours
The project report/exam is delivered by 13 November
Presentations from students will be held digitally on 23 & 24 November - 9 am to 4 pm
2 personal mentoring sessions for 30 minutes on projects will be given to each group by the course coordinator on: 14 & 15 September and 19 & 20 October.
Eksamensbeskrivelse
The exam consists of a written project report that can be submitted individually or in groups. Upon group submission, the same grade is given to all group members.
Work requirements along the way that are registered with approved / not approved:
Mandatory participation in the meetings.
Participation in online teaching.
Exemption from attendance / participation in meetings and teaching can be assessed on the basis of an application to the Department of Design.
Pensumlitteratur/kursmateriell
Curriculum literature / course material:
Stated at the start of the study and material is shared in connection with the collections.
The course Elements of AI should be reviewed before the course starts: https://www.elementsofai.com/no/
Annen informasjon
Fagansvarlig/Forelesere
Fakultet: Fakultet for arkitektur og design