NTNU IDI and 
NTNU UB is extending an invitation to young students (13 to 19) and parents to participate in a gaming event at Gunnerus library in Kalvskinnet Campus,
19th of February from 10.00 until 14.00.
Program:  Lectures (10-11) – Games (11-13) – Reflections (13-14)
Enjoy learning about science, mathematics, history through playing.
Play with the prototypes and give us feedback.
The event will be on in English.
Some refreshments will be served.
The event is partly sponsored by NTNU ARTEC, Trondheim Kommune,  Gunnerus Library, and IDI NTNU. It t will be organized as an International Conference for teenagers. Parents and educators also welcome. It will offer small lectures about science and culture by international researchers and artists from Japan and Europe as well as NTNU professors and Master students;
All those who are attending this event, please confirm your participation sending the full name of all participants and a contact phone number to: info.tappetina@gmail.com
UMI-Sci-Ed (Exploiting Ubiquitous Computing, Mobile Computing and the Internet of Things to promote Science Education) is a Horizon 2020 project, which aims at enhancing the attractiveness of science education and careers for young people (14-16 year olds) via the use of latest technologies.
ARK4 is a digital library of games and quizes about history, archaeology, botany, litaerature and culture.
Novelica is a game to make people forget about negative feelings about mathematics.
Leo con Lula is a game that facilitates learning of reading skills for those with disabilities.
THAT IS WHERE IT WILL TAKE PLACE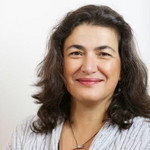 Alexandra Angeletaki is a classical archaeologist and has worked as a lecturer in archeology at NTNU since2001. For the last few years she has been involved in innovative dissemination DH projects and has worked with Museology and Digital Learning at NTNU University Library.
She is also responsible for library seminars and academic writing support for students in Kalvskinnet Campus.