Kanskje lurer du på hvordan du:
– Finner pensum?
– Søker etter bøker og artikler?
– Finner relevante kilder til oppgaven din?
– Får tilgang til digitale artikler og bøker hjemmefra?
– Refererer til en artikkel eller en nettside i oppgaven?
– Lager referanseliste?
Lurer du på noe helt annet? Bare spør!
Vi har dyktige ansatte som gjerne hjelper deg.
Stikk innom ditt nærmeste bibliotek.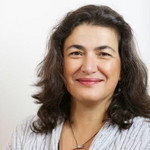 Alexandra Angeletaki is a classical archaeologist and has worked as a lecturer in archeology at NTNU since2001. For the last few years she has been involved in innovative dissemination DH projects and has worked with Museology and Digital Learning at NTNU University Library.
She is also responsible for library seminars and academic writing support for students in Kalvskinnet Campus.