Invited to hold a lecture by Professor and UNESCO Professorial Chair in Cultural Heritage & Visualisation> Erik Champion on
About this Event
Speakers:
My lecture is on : Engaging with cultural heritage, including your end-users in strategy discussions on heritage protection and sustainability.
Archives and memory institutions today, are challenged, because of the emergence of technology and internet, to find new forms of dialogue with their public, potential visitors, users project-participants. They have turned to today's technology to entertain and inform the public but also to collect and manage data production. At the same time, they work on preserving the physical cultural heritage of the past, documenting and curating it in order to maintain and built robust infrastructure that holds for many years ahead.
At NTNU University library, the Gunnerus Library, we have treasures and collections of Norway's past from far back in time that have been preserved and nurtured for hundreds of years. We have handwritten manuscripts, maps, and rare books. For the past 20 years, we have been engaged in digitizing and making it available for researchers and students, we offer courses and we establish projects in collaboration with teachers and researchers. In 2012 we established a Digital heritage lab MUBIL.NO in order to work with question connected to the use of emerging technologies especially, 3D AR and VR technologies in archaeology and humanities research. Here I would like to stress a point that has interested me as a metalevel of archaeology for the future researchers, and I Invite you to discuss and reflect on the way archaeological research thinking could be a tool to use into analyzing and curating digital culture today and the challenges connected to inclusion and diversity issues but also climate change.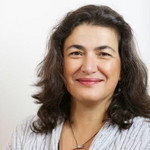 Alexandra Angeletaki is a classical archaeologist and has worked as a lecturer in archeology at NTNU since2001. For the last few years she has been involved in innovative dissemination DH projects and has worked with Museology and Digital Learning at NTNU University Library.
She is also responsible for library seminars and academic writing support for students in Kalvskinnet Campus.